Gardening Services Wimbledon sw19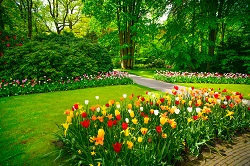 Professional Gardeners Wimbledon - Transform Your Garden Today With Our Skilled Experts!

When it comes to creating a well-crafted and beautiful garden, not all of us have the time and skills needed. Here at Gardeners Wimbledon, we understand that and offer affordable gardening services throughout SW19 area. Our team consists of experts who are the number one choice for landscaping and garden maintenance. No matter what you need help with, whether it's lawn care or other services, our experienced professionals are here to help.
Don't Let Your Outdoor Space Get Out of Hand - Get Professional Gardeners SW19 On The Case!

The winter can often leave your garden looking worse for wear, so if you're concerned it's past saving then don't despair - our Wimbledon gardeners can help restore order to the world outside your window. With years of expertise and knowledge, they know exactly what to do to get your flowerbeds, plants, and lawn back into top shape. Plus, our professional landscapers can advise on effective maintenance strategies to ensure your garden looks great all year round.
Dream Garden in Reach With Professional Gardeners in Wimbledon, SW19

No matter what size your outdoor space is, our team can help you make those dream garden ideas a reality. Our packages cover everything from expert landscaping right down to general garden tidying so you can get the perfect look without breaking the bank. To hear about these exceptional services from local SW19 gardeners, give us a call today on
.
Gardeners Wimbledon Standing By For Big Events At Short Notice

If there's a special occasion coming up but you're worried your garden isn't quite up to scratch yet, you can rely on our professional team of gardeners Wimbledon. We provide regular maintenance as well as restoration and repair services throughout the region - making sure that everyone has an inviting place for their special day. Our widespread popularity is based on providing excellent service tailored to each individual customer's needs.
Garden Landscaping in Wimbledon,SW19 Offering Reliable & Affordable Services

Trying to juggle work and life commitments alongside taking care of the garden can be difficult - let alone trying to keep up with all the jobs needed for regular garden maintenance. That's where we come in - our reliable and affordable gardening services mean that anyone in SW19 area can enjoy their outdoor space without worrying about keeping on top of it! Whether you need weed control or lawn mowing throughout the year, our specialists have got you covered.
Let Us Take Care Of Your Garden In Wimbledon, SW19 - Call Now!

Here at Gardeners Wimbledon, we're passionate about bringing gardens back to life which is why we always strive to provide an excellent service tailored to each customer's individual requirements at unbeatable prices. So if you'd like some assistance with restoring order in your outdoor space or creating the dream garden of your dreams then contact us now by calling
. Our experienced professionals will take care of everything for you so you won't have to worry about doing any manual labour yourself.